Call for Excellence Awards Entries
It's that time of year!  The 2018 Editorial Excellence Awards Call for Entries is now available! Submit your entries for the 2018 AABP Awards Program now.  Note that March 9, 2018 is the deadline for submissions.  This year's competition will include entries from January 2017-December 2017 (except in certain categories).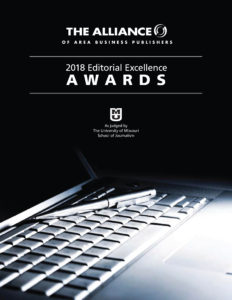 Online Entry System – Award entries will again be submitted through an online entry system  http://betternewspapercontest.com/login to simplify the process. Except for specific materials that must be mailed, ALL entries must go through the online entry system.
Account access in the Online Entry System – if you have submitted awards in the past, your account from previous years is available. For security purposes, everyone will need to validate the email address used and change their passwords for this year. If you don't have access to the contact email address from last year or wish to change the contact email address, please contact AABP – aabpstaff@gmail.com
Payment to AABP – Payments must all be sent to AABP – either by credit card or check. After submitting entries, members will be directed to a secure online payment site. After March 9, 2018, the online entry site will no longer be available to submit entries.  NOTE: Award submissions are not considered complete without payment. Entries will be pulled from judging if payment is not complete by the close of business March 31, 2018. Publications must be current with 2018 AABP membership dues in order to participate in the contest.  Submit your payment.
Awards – Winners will be presented in conjunction with the Summer Conference scheduled for June 21-23, 2018 at The Westin Washington, DC City Center in Washington, DC.
If you have any questions or need further information regarding the Awards Competition, feel free to contact Prof. Reuben Stern (sternr@missouri.edu).