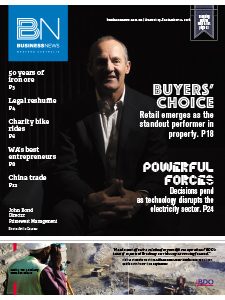 139 Newcastle Street, Units 12-14, Level 2
Perth, Western Australia
6000
Australia
general@businessnews.com.au
http://www.businessnews.com.au
Business News was established in 1993 and is based in the beautiful ocean-side city of Perth, the state capital of Western Australia.
Its current owners became involved in 2000, took the paper from free to paid, fortnightly to weekly (and now back again to fortnightly), and introduced Daily Business Emails, 40under40 Awards and a whole events side to the business. In 2013, Business News rebranded to a more modern look, put up a strict pay wall and launched the online business database and search engine, 'BNiQ'.
Since making this move, traffic to the website www.businessnews.com.au has quadrupled, subscriptions have grown, along with digital advertising and events. The paper has since reverted to a glossy fortnightly format. 'BN' is the last remaining city based business publisher in Australia, and is a proud member of the AABP.