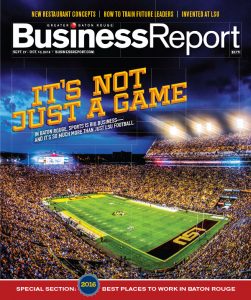 9029 Jefferson Highway, Suite 300
Baton Rouge, Louisiana
70809 USA
editors@businessreport.com
About Greater Baton Rouge Business Report
Since its inception in 1982, the Greater Baton Rouge Business Report has been committed to delivering accurate, honest and in-depth coverage of the Baton Rouge business scene. After many years and hundreds of issues, our publication not only continues its mission, but also has exceeded expectations by becoming a true partner to business and the community.
Penned by a national award-winning editorial staff, Business Report has become required reading for area professionals, executives and small business owners. We deliver the business news first, spotlighting the local players, keeping a finger on the pulse of the economy and "putting a face" on business issues.
Since 1982, our publication has been instrumental in establishing unique business events that have recognized excellence and created opportunities for business development. The Business Awards & Hall of Fame, Influential Women in Business and Top 40 Under 40 are some of the most anticipated annual events of the business community.
Each year, we also furnish thousands of dollars worth of advertising space for nonprofit organizations, donate funds to charitable events and provide assistance to a variety of community groups whose activities make Baton Rouge a better place to live and work.