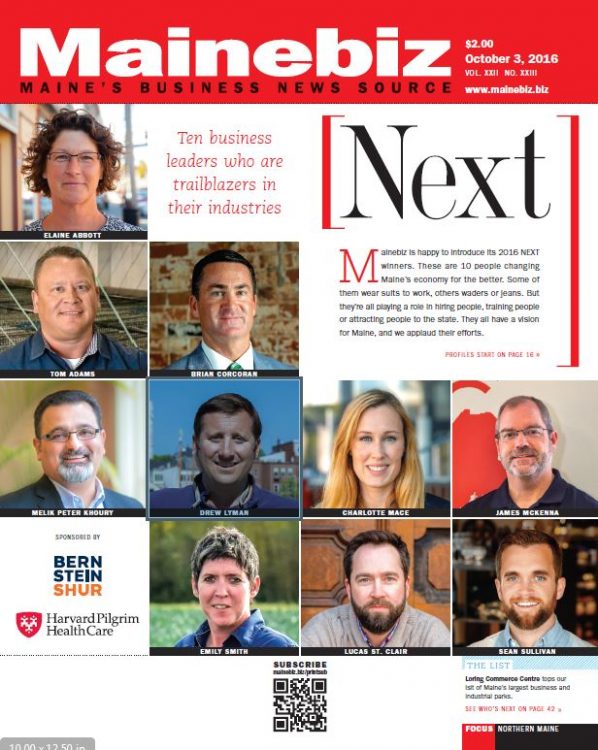 New England Business Media LLC
Mainebiz helps businesses succeed.
Mainebiz is a media organization providing business news, information and analysis for Maine's business owners and decision makers.
Inform. Engage. Connect.
It is the mission of Mainebiz to be the leading source of Maine business news and analysis. We will deliver coverage of business and economic trends, issues and news through credible, evocative and stimulating writing. We will consistently produce high- quality, well-designed products with exceptional art, graphics and photography. We will recognize and celebrate exceptional achievements within the business community. We will connect our audience through hosting interactive events statewide. We will provide a forum for ideas for Maine's business community. As part of our parent company, New England Business Media, we will be an evolving, growing and profitable enterprise. We will encourage communication, professional growth and development of our employees. We will conduct ourselves in a responsible, ethical, honest and professional way in all areas of our business, providing excellent service to our audience, advertisers and to the community at large.
We get it right.
Mainebiz is honored to be the recipient of a myriad of national, regional and local awards for our journalistic excellence, outstanding design and graphics, and community service, and we will strive to consistently maintain a high level of quality.
We've got Maine covered.
We will provide business news and information statewide through a variety of media to help the business community access what it needs: online, in print and in person at events.
We've attracted an audience of educated, affluent business decision makers in Maine.
Mainebiz serves the business decision makers in Maine — people who are developing, managing, and growing their business. We have and will survey our readers in print, our email subscribers and our online audience to learn about them so that we can best serve them. Learn more about the targeted, exclusive demographic Mainebiz reaches.
We are a creative team of professionals with an entrepreneurial spirit who are dedicated to fulfilling the Mainebiz mission.