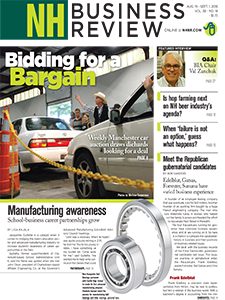 McLean Communications LLC
150 Dow Street, Tower 1
Manchester, NH 03101
USA
About New Hampshire Business Review
NH Business Review is the only statewide business newspaper in the Granite State. Established in 1978, NH Business Review, published biweekly, has long been seen by readers and advertisers as the most respected source of business information, news, features and advice in the state.
More than 50,000 influential and affluent NH Business Review readers range from sole proprietors to CEOs and other top executives of large publicly held corporations to key government decision-makers.
In its in-depth regular sections, the newspaper covers the real estate and construction industry, the high-tech sector, banking, the legal profession, health care, the hospitality industry, among many others.
NH Business Review's online presence includes the Daily Business News Browser, an e-newsletter sent each day to thousands of business people, keeping them up to date with breaking business news and information.