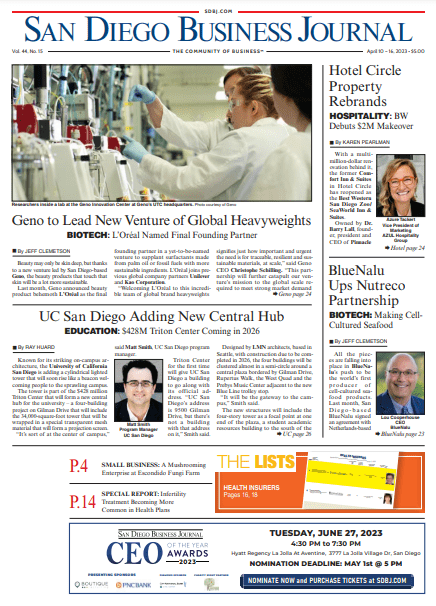 4909 Murphy Canyon Rd. #200
San Diego, CA 92123
About San Diego Business Journal
Each week, the San Diego Business Journal delivers the market's most complete package of business news and information on San Diego County's companies, industries and business people. We cover commercial real estate, banking and finance, biotech, health care, technology, defense, tourism, manufacturing, professional services and more. Each week we also write about San Diego's vibrant start-up community.
Our Lists provide comprehensive data and statistics on top-ranked San Diego companies across all industries. Each of these surveys is then compiled into the San Diego Business Journal's invaluable resource – the annual Book of Lists.
DAILY NEWS ALERTS
Keep effortlessly up-to-date with our free Daily News Alerts and weekly
Real Estate and Tech newsletters.
Contact Info: Phone: 858-277-6359
Fax: 858-277-6398
4909 Murphy Canyon Road, Suite 200
San Diego, CA 92123