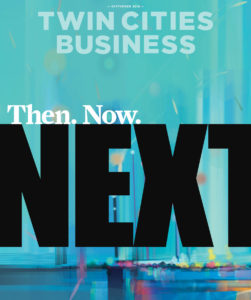 220 South Sixth Street,
Suite 500
Minneapolis, Minnesota
55402 USA
About Twin Cities Business
Twin Cities Business is Minnesota's leading provider of business news, insight, and analysis through daily online news stories, e-newsletters, a monthly print magazine and live events. Along with our readers, we get to know the personalities of our region's most influential leaders, exploring the "how" behind their success, strategies, and solutions. We discuss today's most pressing issues, examine trends and outlooks, and provide the context, perspective, and information leaders have come to depend upon.